Dental Implants
Dental Implants in Arlington, VA
For people who are missing teeth, routine daily tasks can be difficult. Even things as simple as eating and talking can be much more difficult when you don't have all your teeth. Dentists and patients alike prefer to replace missing teeth with dental implants. Compared to dentures and removable dental bridges, implants offer numerous benefits when it comes to the tooth replacement process.
Contact Us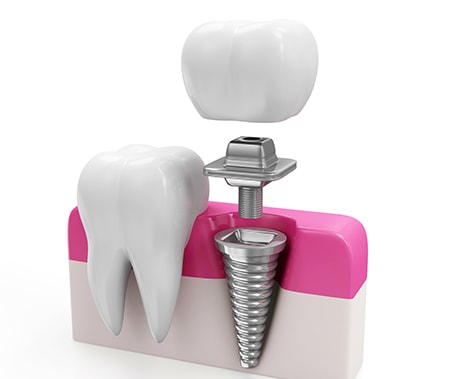 What Are Dental Implants
When it comes to missing teeth, dental implants offer a solid base for the replacement tooth (a crown, dental bridge, or denture). An implant is a small titanium screw that we place in the jaw in place of the root of a missing tooth. Over a period of a few months, the implant fuses with the bone to form an anchor for the restoration. If your jawbone isn't strong enough for an implant, we can perform a bone graft to strengthen the jaw in preparation for an implant.
Once the implant is in place and fused with the jawbone, we'll bring you back in to fit you for your restoration. If we're replacing a single tooth, we will fit you for either a dental crown or bridge. If you're missing most or all teeth in a single arch, we might recommend implant-supported dentures. When secured by implants, dentures are more secure, and they don't click or slip.
Schedule a Consultation
Benefits of Dental Implants
Preferred by dentists & patients
More permanent replacement method than dentures
Look, feel, & function like natural teeth
Care for implants like you would natural teeth
With proper care, can last a lifetime
Cost of Dental Implants in Arlington
At Arlington Dental Center, we pride ourselves on being an affordable dentist who provides dental implants for our patients. We offer flexible financial options to keep a healthy smile within your budget, including payment plans, an in-house membership plan, and a cash discount for payment up-front. Visit our Financial page to learn more.