Teeth Whitening
Teeth Whitening in Arlington, VA
Your smile is often the first thing people notice when they meet you. If you feel embarrassed about the color of your teeth, professional teeth whitening is a quick way to get a bright smile you'll love. At Arlington Dental Center, we want you to feel confident about showing off your pearly whites. We offer one-size trays, custom trays, and in-office whitening to help you achieve a dazzling smile. During your consultation, we'll work with you to choose a whitening treatment that's right for you.
Contact Us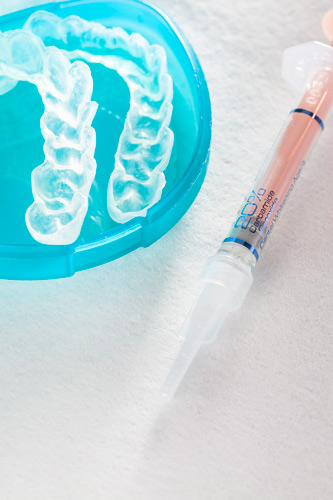 One-Size Teeth Whitening Trays
Our one-size whitening trays are perfect for patients looking for an easy, affordable way to get a noticeably whiter smile. When you pick up your whitening trays and bleaching gel from our office, we'll send you home with instructions and a recommended whitening schedule.
Custom Teeth Whitening Trays
For a secure fit, we can create custom whitening trays for your smile. We take a mold of your teeth and use it to design your trays. With our take-home whitening treatments, you can lighten your teeth at your convenience in the comfort of your own home.
In-Office Teeth Whitening
If you have a special event coming up or simply want fast whitening results, our one-visit whitening is the quickest way to achieve a brighter smile. In as little as one hour, you can enjoy the benefits of this whitening method. Another advantage of in-office whitening is that our experienced team takes care of your entire treatment. We can even make adjustments to reduce any possible sensitivity issues.
How Much Does Teeth Whitening Cost?
The cost of professional teeth whitening varies from treatment to treatment. When you visit our Arlington office, we'll discuss your out-of-pocket costs and go over our financial options. Call our office to schedule your teeth whitening consultation at 703-465-0123. Our team looks forward to helping you get a picture-perfect smile!
Makeover Your Smile Today!