Porcelain Veneers
Porcelain Veneers in Arlington, VA
At Arlington Dental Center, we believe everyone should feel confident behind their smile. If you notice any tooth imperfections you want to change, veneers can make your dream smile a reality. Our compassionate team is excited to help you create a smile you'll love!
Contact Us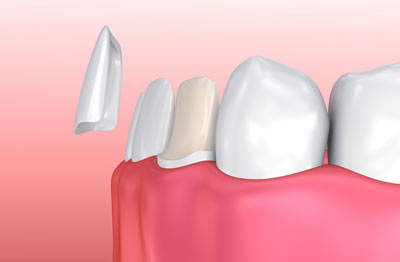 The Veneers Process
Dental veneers are thin, custom-made porcelain shells that fit over your teeth. We bond them to your natural teeth to change their size, color, shape, or overall appearance.
The first step in getting veneers is to discuss and design your dream smile with Dr. Razmjou. Once he understands your vision, we can begin the veneers procedure. At your first appointment, we remove a thin layer of enamel from the teeth your veneers will go on. This step helps the veneers bond evenly to the surface so they look and feel natural. Then, we take impressions of your teeth so our lab can create your custom veneers. Once we receive your veneers from the lab, we'll bring you into our office to fit and bond them onto your teeth.
Reasons to Get Veneers for Your Teeth
Veneers can be used to cover a wide range of aesthetic problems with your teeth. The most common reasons people get veneers include:
To Cover Chips & Cracks
To Close Small Gaps
To Reshape Teeth
To Correct Discoloration
To Lengthen Teeth
Cost of Veneers
The cost of veneers varies depending on how many teeth you're planning to correct. We'll go over your expected costs prior to your veneers procedure. We understand every patient is working with a different budget, and we strive to offer a variety of financial options so our patients can achieve the smile of their dreams without breaking the bank. If you have any questions or concerns, contact us today and one of our knowledgeable team members would be happy to address them!
Schedule Your Consultation