Dental Sedation
Relaxing Dental Sedation in Arlington, VA
Dental anxiety is incredibly common among children and adults alike. At Arlington Dental Center, we are happy to work at a pace that our patients are comfortable with, and we offer dental sedation to help relieve dental anxiety. Whether you need it to feel more comfortable during a restorative treatment or routine cleaning and exam, our team has you covered. Schedule your next convenient appointment with our office today!
Schedule Appointment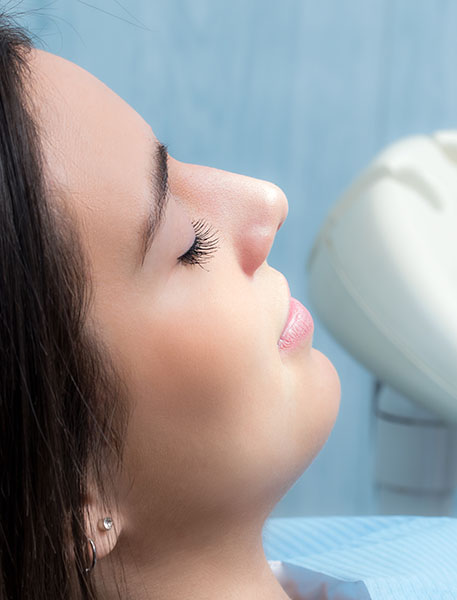 Nitrous Oxide
Nitrous oxide, or laughing gas, is a clear, sweet-smelling gas that is commonly used to relieve dental anxiety and to help patients feel more comfortable during complex dental procedures. Once the comfortable mask has been placed over the patient's nose and the gas is administered, the effects of the nitrous oxide begin within a few minutes. Patients may feel very relaxed, lightheaded, or giddy, like everything around them is funny. Laughing gas is an effective and safe sedation option that can be utilized by almost everyone.
Vibraject®
Our treatments are painless and comfortable from start to finish. Before a local anesthetic is injected into the gums to completely numb the mouth, we use a handheld device called a Vibraject to prevent the patient from feeling the pinch of the needle. Vibraject uses fast vibrations to block pain signals from being sent to your brain during the injection, making the treatment essentially painless. Once the injection is complete, you can expect the rest of your appointment to be painless as well.
How long does dental sedation last?
One of the benefits of nitrous oxide sedation is that it wears off within a few minutes of breathing normal oxygen. Once your treatment is complete, you may want to wait at least 15 minutes for the effects to fully wear off before leaving our office. While most forms of dental sedation require patients to have a friend or family member wait in the lobby and drive them home afterward, it is typically safe for patients who utilize nitrous oxide to drive themselves home after their appointments.
Contact Us